The Auguste Escoffier School of Culinary Arts (AESCA) invites you to let our expert chefs and staff lead your group through an epicurean adventure, whether it be a fully catered event in our 9,000 square foot garden, team-building exercise where groups are given mystery baskets and charged with the task of working together to create a sit-down feast, or a chef-guided hands-on cooking lesson such as Knife Skills or Pastry Basics. Through a private cooking class at AESCA, you will have an opportunity to experience the school's commitment to seasonal and sustainable cooking in a personable and professional environment.
Private Cooking Classes
Whether it's a newly formed team at work, an existing department, a birthday celebration, or simply a group of friends who are looking for a fun night out, we will develop a customized class to fit all of your needs. Participants will build camaraderie and learn valuable skills through the universal language of food.
What's Included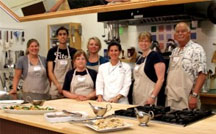 Each class is equipped with a personalized menu, expert Chef Instructor and fully equipped commercial kitchen and staff. Students are given the information, support, and resources to masterfully create a sit-down feast. And, the best part is that there's no clean-up on your part! Our staff takes care of everything—from start to finish! Custom designed recipe packets are also available for each participant to take home. Click here for a sample menu.
Alcohol Policy
Auguste Escoffier School of Culinary Arts does not own a liquor license, but we do allow guests to BYOB. Please inquire about specific guidelines regarding the BYOB policy.
Scheduling and Pricing
Hands-on cooking classes average 3 hours, but timing may be adjusted if needed. All menus are seasonal and tailored to your particular interests. Pricing is per person and based on content, menu, and length of class. For more details and to begin the process of creating your event, contact Nancy Marr, Special Events Manager (nmarr@escoffier.edu or 512-451-5743).
Public Cooking Classes
We also offer cooking classes to the public without a formal customized menu. All of our menus feature food choices of the season and what is available in our garden. We offer cooking classes during the week and weekends. Please review our schedule here to be part of one of our chef inspired cooking classes.